VITAL PARACHUTE > RESCUE > SQUARE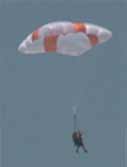 The CROSS series is a rescue system for paragliding and parachuting. The canopy is a square shape with slits at the corners which they say makes it more stable and helps it to open quickly and efficiently.
This design offers the optimal combination of;
Fast opening time
Low descent rate
Highest pendulum stability
Compact size and ultralight weight
The CROSS series is designed only for use in an emergency situation on a para-glider and speed-glider; it is unsuitable for free fall parachuting.
CROSS; rescue parachute, non-steerable
Canopy shape: square, pull-down-apex
Canopy material: nylon 66, high-tenacity 20 denier, rip-stop weave, 0-5 CFM
Canopy color: yellow or orange
Suspension line material: Dyneema®, braided, 500 - 600 lbf break
Riser: single type, 4,500 lbf break
Descent rate: 5.0 - 5.2 m/s
Inflation time: 2.0 - 3.0 sec
Oscillation: 0 - 5º
Model

Specification

CROSS-110
MEDIUM
CROSS-135
LARGE
CROSS-210
TANDEM
Certificate no. (EN/LTF)
TBA
TBA
TBA
Load range (kg)
80 - 110
100 - 135
170 - 210
Canopy diameter (m)
5.82
6.43
8.08
Canopy area (㎡)
32.00
39.10
61.50
Assembled weight (kg)
1.73
2.02
3.30
Number of cells/lines
16/16
16/16
36/24
All products are manufactured in accordance with the quality standards.
If you have a special need for something, please contact us.