VITAL PARACHUTE > MILITARY
VITAL PARACHUTE has designed and is manufacturing many different military personnel and cargo parachute systems to meet the demanding requirements of Armed Forces.
We personally manufacture, inspect, test, and package each product we create, and take pride in delivering the superior quality product available in the world.
PERSONNEL PARACHUTE SYSTEMS
MT-10&MT-10R; Advanced main and reserve, steerable
MC1-1B/C/D/E; Troop-back type, main, steerable
T-10B/C/D; Troop-back type, main, non-steerable
T-10R; Chest type, reserve, non-steerable
G-11B/C/D; 100-foot diameter, 5,000 lbs
G-12D/E; 64-foot diameter, 2,200 lbs
G-14; 34-foot diameter, low-velocity, 500 lbs
Fabric, Cord
Webbing, Tape
Hardware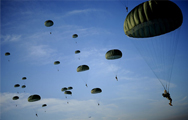 All products are manufactured in accordance with the military standards.
If you have a special need for something, please contact us.